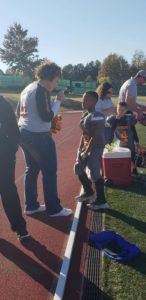 A mom moment. Don't let the finger fool you. Sometimes a mom can sense and see what others can't.
The look I saw in my sons face was fear trying to creep in from the mean and hurtful intimidation coming from adults. I knew the coaches had his back and would handle them but I wanted my son to understand what was happening and who he was.
Matthew…. look at me. You are a Bengal and you are a son of God. I don't know what they are saying but you know who you are. People would not bother you if you were not doing something right. You hold your head up, you walk on that field and you play football.
The best way to shut them up is play football and you score touchdowns. Fear will not overcome you but you will be an individual comfortable in your skin never allowing anyone to tell you who you are not! Now play football!
Parents it's one thing to be competitive but it should never result in tearing down our kids, or bad sportsmanship.
In the end, Matthew scored five touchdowns and one interception. He walked with his head up and never said a word. His actions spoke loud enough.
Lift your kids up and when you see they are being torn down speak life because the world will tell them something different every time. Not my child!
I take my faith everywhere I go. They had cheerleaders on the field. The Bengals has a cheer mama and a prayer warrior. Prayer works.