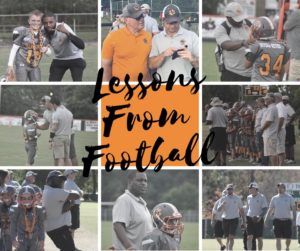 Today's Lesson: Coaches …..
I don't know how much heat they take from parents. I can't imagine the emails they filter because someone thinks their child isn't playing enough or there is "daddy ball" going on. I can't imagine the emails that are sent asking parents to refrain from yelling at their kids during practice or the "eyes they receive when losses occur, and when the stand fans don't agree with the play called. So I thought I would share lessons learned from the coaches.
1. They show up. They make a commitment in good times and bad to keep coaching and encouraging kids to do their best.
2. They do what's best and call the best play not watching from the stands but watching from the field.
3. They have made the decision to lead and to help make and impact and bring change to the next generation because they chose to coach.
4. They share in the wins but they also feel it when they lose.
5. The commitment is beyond the field because they study plays, watch other games, and feel the burden of pushing kids to be and do their best.
6. They make a decision to invest not just for their kids but for each one of our children on the field.
7. They care ….. not just about a football score but about the children individually.
8. They don't get paid. They volunteer. They do it from the heart.
9. They show up. Not only on game day but at every practice ready to coach and give the kids the best of them.
10. They sacrifice. They sacrifice time, money, and sometimes other family commitments to coach.
So, if you have never thanked a coach do it today. It doesn't have to be football. If you can bless them and show them some love let them know they are appreciated. It's easy to fuss or complain from the stands but just think they are making an impact in your child's life and helping build them up to be tomorrow's leaders.
Let's take some lessons from our coaches… show up, stay committed,be positive, make an impact, and do it with passion!
Thank a coach! Appreciate them because the minute coaches stop giving our programs will become extinct. Don't take them for granted because you never know the one coach that will impact and change the life of our children's future!
Ladies let's support our men…. because they could choose to spend their time elsewhere but they choose to COACH!
POP POP! NON STOP! POPPIN!