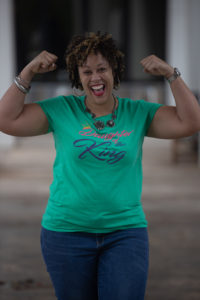 Some say success story. I say GOD story. A woman with a dream that somewhere developed a passion for writing and empowering women. It seemed like everything comfortable was removed and all God said was take me out of the BOX. It was then confirmed to take God out of the box on a missions trip to Guatemala.
Followed by debt, a failing marriage, a defeated spirit with no purpose and hope. I met a group of women in the gym that helped me gain hope, and a desire to live and fight again. I then met women that prayed me through and helped me understand how I along with God could restore my marriage.
Then came crazy pictures with a messages, that many laughed at and told me I was crazy and I needed to stop. All while I am receiving private messages from women thanking me for my pictures and words. The empowerment that I gained helped me relaunch a blog that I had failed at three times before. I stop believing I was called.
It then led to a marriage being restored, $20,000 of debt being paid off, and all that was lost being restored. It didn't happen without me losing friends, losing support and having to trust God when things didn't make sense.
It led to a deep passion to inspire and connect with women and encourage them to move more towards their passion than being comfortable. The desire for Daughter's of the King shirts was birthed. God then called me off of my job followed by a dream of launching an empowerment company in
Fuquay Varina and a Keep it Poppin Service award. It was met with people asking me if a black woman in business could succeed and get the sponsors needed to make Women Who Pop successful. It was met with some doubters and some that chose not to support. Some doubted the idea, others chose not to support it. Yet, again God said trust me and watch me work. At times it was frustrating asking people to sign up for a blog. Many never did. Watching others win while you are struggling. Those you thought would support didn't. I had a dream.
How could a woman with very few connections gain sponsors, increase blog exposure, and plan women's events unlike no other? Why would people say yes, why would people partner with me? I am a small town country girl pursuing a God size dream. How can it work especially when God says do not pay for any advertising right now. Now that's hard. I had one request to God….. if Women who POP is in your will please send me six sponsors before it launches.
On the date of launch I had nine and today I ended with 11! In three days i had over 110 new subscriptions to my blog, and this week alone I have been favored by God to be able to offer a whole new list of workshops, seminars, and classes. It's not me. Its all GOD. It's without begging. It's without having to spend money on subscribers.
I made God one promise. If you bless me I will use it to empower others. He put me in board rooms, connected me with CEO's and I have been blessed to partner with small business owners to multimillion dollar companies. I have had very few shares on Facebooks, quite a few likes but I have a BIG GOD that made a promise to me if I obeyed. He said keep writing.
I do not have a writing degree, no formal trainings. I am not apart of the long money club that can buy connections. I have no roots or family members in this town. I only have God's favor that allowed me to connect with some amazing people. I can't take credit.
How does one secure sponsorships in two weeks that take most months or years. Let me share a secret ……GOD!
Thank you Browsing Butterfly, Abshure Realty, Paul Kaplar Insurance, Crossfit Aestus, Centerpeace Home Health Care, Living Fit, Zaxby's, Main Street Family Dentistry, Garden Hut, The Mill, Stick Boys, Kelly G Myers Designs, and Fidelity Bank for helping a dream become reality.
Thank you for every person that has donated a Daughter's of the King shirt or bought one for themselves. I am grateful for those that bought one and for those that donated 15. They all towards kingdom work.
Thank you Sara Toni, Tonya Green and Adrianne Davis for agreeing to be judges. It's true. It takes a village. The village is much better when God picks it and not You!
Be Encouraged, and Stay Focused!
God can be trusted 100% of the time! You can take that to the bank and cash the check. He's good for it! I am a living witness. Stop trying to pick your team based on who you think is winning on Facebook. Let God pick your team because wins on Facebook doesn't equate to obedience or purpose.